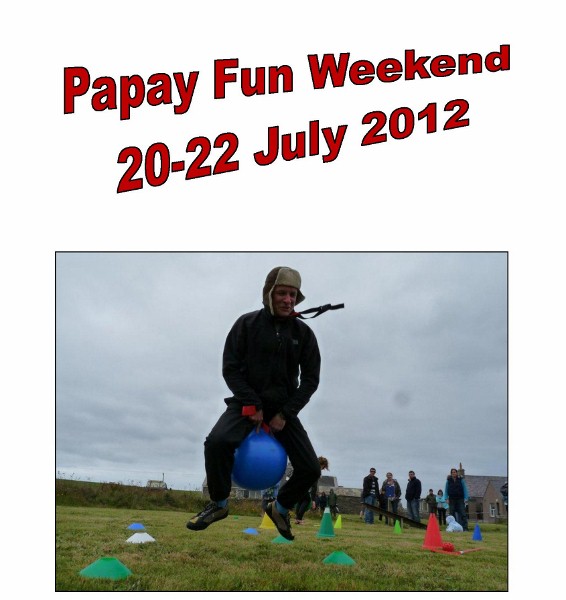 Beltane Shindig (music & BBQ)
John P and the Westray Band, Sticky Lizard,
Kirkwall City Pipe Band, Picnic, Sports, Football, Carty races,
Lunches & Homebakes, Tea/Coffee, Bouncy Castle, Whack-a-mole,
Papay Cinema, Sandsculpture competition, Beach games,
Face Painting & Craft Workshop
Getting to/from Papay
Air:
Flights every day from Kirkwall. Contact Loganair: 01856 872494.
Boat:
* Daily ferries to Westray, with onward connections to Papay. Contact Orkney Ferries: 01856 872044.
* Regular boat service between Westray and Papay. See Orkney Ferries timetable or contact T. Rendall: 01857 677216.
* Late boats from Papay to Westray on Friday & Saturday nights.

For air and boat timetables visit:

Or
General Enquiries
Papay Community Association:
01857 644 224/ 238
What's on
Friday 20th July
2-5pm - Creative Craft Workshop for all ages (Papay School)
7:30pm 'til late - Beltane Shindig: Barbeque, Pub Music and a bit of a dance (Beltane House)
Saturday 21st July
12-1:30pm - Soup, Sandwiches and Homebakes available (St Ann's Kirk)
1:30-3:30pm - Sports, Stalls, Games and Competitions for all ages - everyone can join in (Papay School Cycle Gym & Playing Field)
3:30-4:15pm - Teas and Homebakes (St Ann's Kirk)
St Ann's Kirk - Football match & Tug-of-war (Papay School Playing Field)
8pm'til late - Ceilidh Dance with John P & the Westray Band, buffet and bar, raffle (Papay School)
Sunday 22nd July
12:00-1:30pm - Soup, Sandwiches, Snacks & Homebakes available (St Ann's Kirk)
1:30-3pm - Carty Races doon the brae. With the Kirkwall City Pipe Band. All carts to assemble at shop by 1:30pm. Races started by pipers at 1:45pm approx. (New Houses Brae)
3:00-3:45pm - Prizes and Piping by the Kirkwall City Pipe Band (St Ann's Kirk/Playing Field)
3:45-6pm - Piping and sand sculpture competition (if weather's fine). Picnic on the beach. (to be arranged)
8pm - Film: Puss in Boots - Papay Cinema (Beltane)
Facilities
Toilets are available at the Community School, St. Ann's Kirk, the Beltane Guest House and the New Pier.
The island shop is open on Friday from 3 - 5pm and on Saturday from 10am - 12 noon.
Accommodation/camping: Papa Westray Hostel (01857 644321)
A minibus is available on request to meet arriving boats and planes (book on 01857 644321). Ask on the isle about use of this service when leaving.
Prices
Beltane Shindig: £7/£3 (under 16)
Saturday Dance: £10/£4 (under 16)
Soup/sandwiches: at cost
Tea/coffee/homebakes: at cost
No need to pay in advance.
The Papay Play park and Cycle Gym will be open throughout the weekend, and the bouncy castle at certain times.
Download the PDF leaflet for full details:

The Papay Fun Weekend is sponsored by:
Papay Community Association
Papa Westray Community Council