Holm of Papay

The Holm of Papay - photograph by Tom Hughes
This is a small island accessible only by boat from the old pier at Papa Westray.
It is possible that the inhabitants of prehistoric settlements such as the buried their dead here.
There are three ancient chambered cairns on the Holm - the most remarkable being on the high ground at the south end. This is an elongated version of the Maeshowe type tomb, having no less than 10 single and 2 double side chambers opening off the main chamber. There are markings, not easy to see, including an 'eyebrow' motif long thought to be mere abstract forms. This tomb was first excavated in 1849.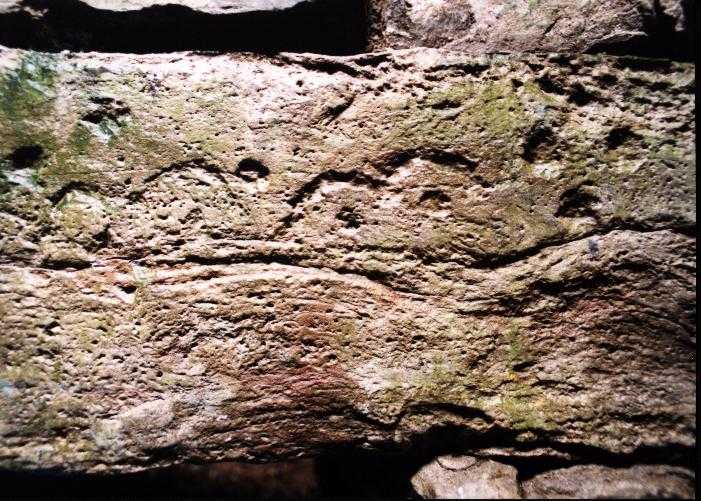 Carving in one of the tombs - photograph by Douglas Hourston
Following the discovery of a 5,000-year-old 3.5cm tall stone carved figurine during excavations funded by Historic Scotland at the Links of Noltland prehistoric settlement on the neighbouring island of Westray in 2009, parallels have been drawn with the Papay Holm carvings. The most distinctive features on the figurine include heavy, curved eyebrows with dots for eyes beneath. The Historic Scotland press release stated that archaeologists were keen to compare these with seemingly abstract markings on the lintel stone inside the Holm of Papa Westray tomb. Mike Brooks of the Historic Scotland photographic unit took high-quality pictures inside the tomb which seem to suggest a link.
According to Richard Strachan, senior archaeologist with the Historic Scotland cultural resources team:
"Initial comparisons do show a similarity in use of this eyebrow motif and may point to the possibility that the markings in the cairn are meant to show human eyebrows and eyes, as the style is very similar to the figurine. Alternatively, we may be seeing the re-use of a motif familiar to the carver and applied to different contexts with different meaning."
"This is highly intriguing and raises yet more questions about Neolithic people's attitudes to artistic representations of human beings. Images of people are very rare indeed, which some people believe suggests that it was considered taboo. But the discovery of the figurine shows there were some exceptions, and the lintel in the tomb may suggest that there were situations where particular features could be shown."
Originally the chamber would have been entered by a low passage midway in the tomb, today one enters by a hatch and ladder through the 1929 concrete roof built to preserve the tomb.
Torches are inside the tomb for visitors use.
You will probably find a large number of seals on the rocks between Papay and the Holm. They consider visitors to be a great curiosity!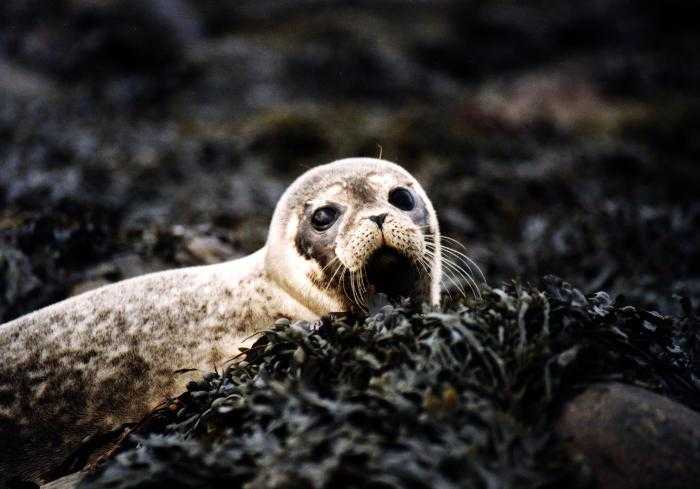 Seal pup on the tangles - photograph by Douglas Hourston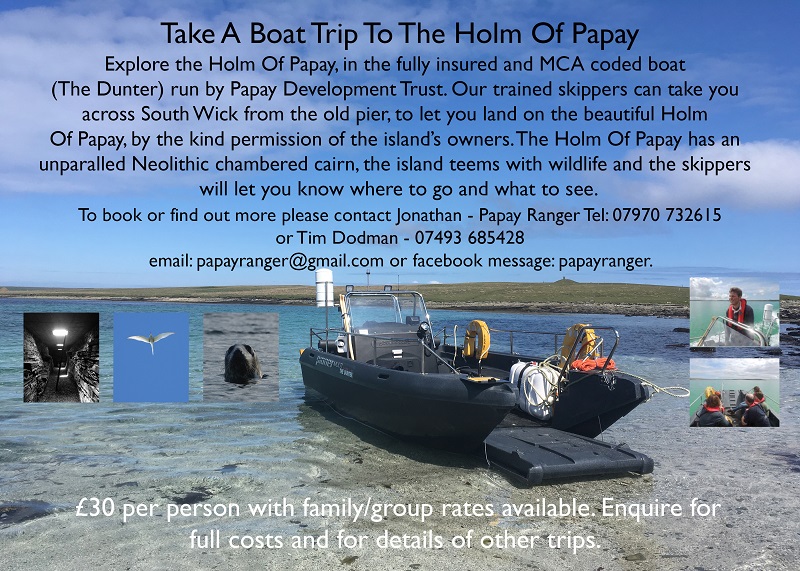 include("../footer.html"); ?>